What is Steel Rule Die-cutting?  It is useful to use the words "steel rule" to describe one type of die-cutting because 2 completely different kinds or "styles" of die-cutting are
Laser die-cutting
PMC die-cutting
Laser die-cutting "cuts" the paper with a laser "beam." PMC die-cutting "die-cuts" three-inch-high piles of paper in one cycle.  The process includes making cuts in a printed sheet in a configuration that will allow it to be used or assembled into a functional piece, such as a door hanger, pocket folder, or carton.  Die-cutting also includes cuts that enhance a piece's design appeal, such as die-cutting a holiday greeting card in the shape of a Christmas tree.  Dies are typically made from bending metal strips with a sharpened edge into the desired shape and mounting them into a wooden block.  The metal strips, called "rules", are higher than the wooden backing, creating a cutting edge that works much like a cookie cutter.  Printers often keep a supply of standard dies for common items such as pocket folders and table tents.  Cutting labels and decals from printed paper, but not its backing, is called "kiss die cutting."  Sheets printed this way allow the label or decal to be peeled away from the backing.
The products that you can use die-cut on are wide ranging.  Many people like to add eye-catching details to their business cards with die cutting, but you can also use the process on door hangers, brochures, portfolio folders, etc.
Picture #1 is an actual 40" steel rule die for a rather simple product
Picture #2 shows the black sharp "rule" strips that cut the paper and the red rubber pushes the paper out of the die
Picture #3 illustrates different styles of die for cutting, scoring and perforating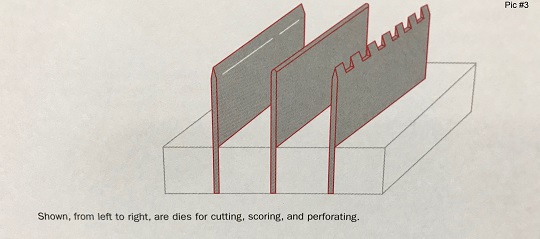 Picture #4 is a very small portion of our library  of 100's of our steel rule dies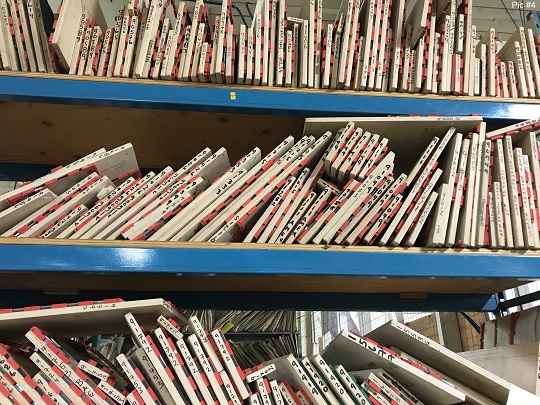 Picture #5 illustrates numerous kinds of metal cutting edges for dies
As you look for ways to add a die cut to your piece, think about the purpose of it, and what kind of message you want to deliver.  You can create a classic shape, such as an effect of a family crest or scrollwork or perhaps something wild or unique, like the top of palm tree, a car, and the wings of a bird.  The industry can provide additional creative direction.  Construction companies, real estate agents or architects could use the outline of a napkin or even a fork or basil leaf; the possibilities are endless.
The real benefit of using a die cut is to get a potential customer to do a double-take, take a closer look and check out what you have to offer.  Sometimes it is that critical few seconds that can result in your business card or brochures.  Die cutting lets you create a limitless range of contours – from unconventional corners to perfect circles to the outline of an image or logo.  A die cut provides a tactile and visual edge to distinguish your piece.
TIPS FOR REDUCING PROMBLEMS IN THE BINDERY
Always obtain a printer's template before beginning a packaging design assignment
Every printer has its own nuances to consider. Every vendor will have a slight variation in size and where the folds and scores occur.  It is not noticeable in the marketplace, but it could be the difference in the placement of huge portions of the design.  Get a template from the printer to work over.  Then, you can embrace it and design something special around its little quirks.