About a year ago, I did a blog posting on Side Sewing. I'm repeating the topic but not the details!
For the past year, we have (as we always do) responded to market demands and we have added 5 new improvements and, in addition, solved a problem!
The image below is a Side Sewn book that is 1) thicker than we could produce before and 2) we can now us a heavier, stronger, thicker thread than before.
The red book shown below illustrates our best improvement in Side Sewing. Traditionally, Side Sewing looked great on the front cover but was pretty ragged looking on the back. This book has NO ragged stitches on the back cover!
This next image is the first piece we have in this style. When closed, you see no line of thread, but when opened, you see two lines of different coloured thread. There is also no thread showing on the back cover. This is a new style and new idea!
These next two images illustrate a new sewing style called the Zig-Zag. Two benefits of this style are 1) a great aesthetic and 2) a slightly stronger binding style.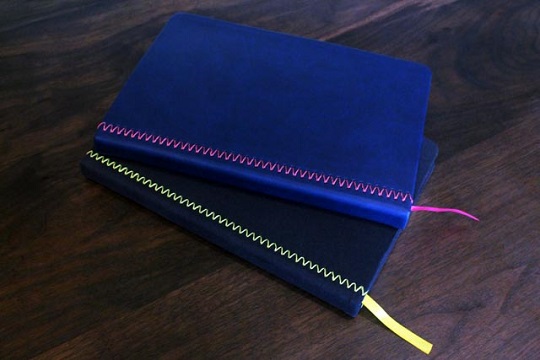 The following two images illustrate a slightly different Side Sewing stitching pattern.
The white book shown below is different than the others in that the thread only goes through the front cover – not the entire book. When opened, the book is actually perfect bound! The thread on the cover is for entirely aesthetic purposes, not functional.
This last image illustrates the problem we solved! The client need a perfect bound styled book, but couldn't use perfect binding because the hot-melt glue required is technically non-recyclable. Our solution was to Side Sew the pages and then cold glue the last page onto the inside of a heaver cover. The thread is pure cotton and the cold glue (which is not strong enough to use in perfect binding) is 100% recyclable. Problem solved! We've now produced this job twice and we see a growing need for 100% recyclable binding methods like Side Sewing.
Features
Multiple colours of thread
Multiple lines of thread
Tactile binding method – raised stitches on front cover
Benefits
Permanent binding method
100% recyclable
Factor to Consider
Side Sewn books do not lay as flat as perfect bound or Smyth sewn books
For more information on side sewing please click here.