Look at these beautiful Capacity Folders! They've been debossed, foil stamped and have hidden magnetic closures. When your client is looking for a folder that will stand out on a desk, we can help!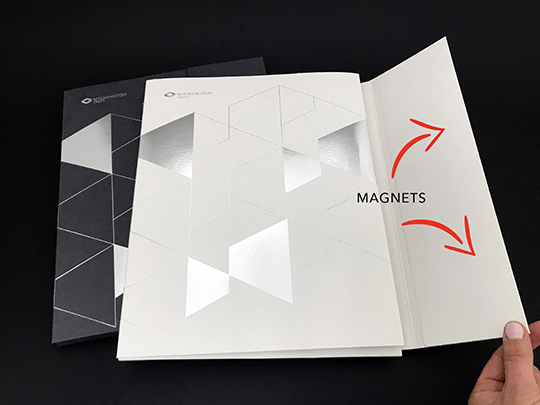 These two Capacity Folders each required a total 5 finishing operations in our shop:
Debossing
Foil Stamping
Die Cutting
Gluing
Magnet Application
The customer supplied blank 16pt stock, which we debossed on one of our 4 – 40" clamshell die cutters. Next, we foil stamped the flat sheets on one of our 2 – 31" Heidelberg cylinder presses. Third, the sheets went through our a 40" Brausse die cutter to be cut to shape. Finally, because this was a small run, each Capacity Folder was hand glued and had two magnets applied to each closure flap.
If this job was a much larger quantity, we could have produced it automatically on one of our box gluers.